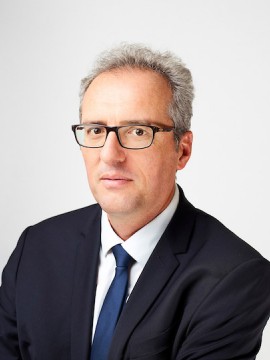 Managing Partner
Olivier joined Nony in 2012, became a partner in 2012 and is member of the firm's executive committee since 2017.
He intervenes in the fields of mechanics, physics of electronics, computer science, optics, and telecoms.
expertises
Physics & Mechanics, Materials, Electronics & Computer Science, Contracts, Litigation & Opposition, Patents, Consulting
Profile
Prior to joining Nony, Olivier worked in the IP department of SAINT-GOBAIN and PSA PEUGEOT CITROEN and then within a large IP firm for 6 years.
He advises and assists companies in the creation and protection of their industrial property rights.
Olivier intervenes in the drafting of patent applications and issuing procedures in France and abroad. He also deals with opposition and appeal procedures, including oral proceedings, before the European Patent Office and with studies freedom to operate and validity studies.
he also deals with litigation for French or foreign clients and carries out IP audits.
Olivier regularly conducts training courses in engineering schools and universities in France.
Training
Engineer INSA

Graduate of CEIPI

European patent attorney

French patent attorney